ERXGen BreakOut MultiCurrency EA
Without volatility, trading the financial market is near impossible. Profit is made ONLY when the price is moving.
The ERXGen (Early Riser Next Generation) BreakOut MultiCurrency EA System is a short-term trading technique built around the phenomenon that there are certain times of the trading day when price volatility has the tendency to be high.
Following the release of extremely popular indicator – ERXGen Filter, being employed by many traders this is an automatic trading system giving traders even more benefits for his or her trading.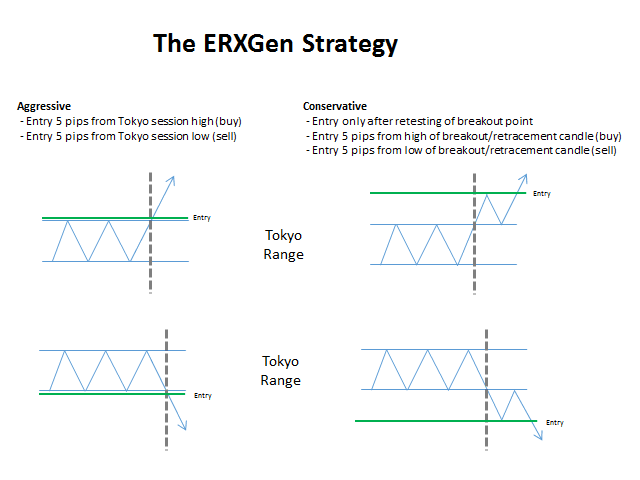 Price action during the Tokyo trading session is used to work out trade entry levels. Buy and/or Sell trades are taken mostly during the London trading session.
The three key rules are:
Intra-week trend
Tight Tokyo Range (gap between high and low price during Tokyo session must be low, ranging and not trending)
Location of the Tokyo Range (price action during Tokyo session must happen either at the top or bottom of the previous day's range)
This Multi-Currency Automated Trader comes with huge benefits
Multi-Currency Pairs for EUR and GBP
Well-written algorithms, precise and fast
More like a trade assistant than a robot
Allows for user intervention
Manages risk – lot sizes, trade sizes
Manages trades – trade size, trade targets, trade stop loss, stop loss management (move to breakeven, trailing, partial closes, etc)
Additional control parameter e.g. stop loss based on EMA, trade recovery techniques, etc
Visual display
Register and Login to Download. Please test in a demo account first for at least a week. Also, familiarize yourself with and understand how this product works before using it in a real account. To get consistent results, this program should run on a VPS with minimal latency and no interruptions. As a result, we strongly advise you to use this program on a Reliable VPS. After completing the download in your computer or laptop you have to extract the file using WinZip software. Also check How do I Install an Expert Advisor on MT4.
REVIEW
This Forex EA is one of the newest Forex Robot that shows itself as a very profitable low-risk trading strategy. In this forex robot review, we're going to break down the pros and cons of this automated trading system to see if it's worth purchasing for long-term trading. We hope this helps you. Wish you all the best. Happy Trading.
Pros
Gain: 1082.93%
Monthly Profit: 10%-50%
Minimum Deposit: $500 Cent
Drawdown: Maximum 25%
Number Of Trade Per Day: 15-50
Pair: XAUUSD, GBPUSD, EURUSD
Time Frame: H1
Terminal: MT4
All trades are secured by Take Profit
Safest EA with Scalping Strategy
Cons
Sometimes drawdown is high
Longer times to close trades
Initial investment is high
No Stop Loss
Floating trades in the weekends
Strict Money Management
During a recovery, the EA can have many trades opened at the same time in the same direction

"If you don't find a way to make money while you sleep, you will work until you die."
Successful Traders Making Profits with Our Robot & Indicator
Average Profit Per Month with Our Robot & Indicator
Millionaire Gold Miner Pro EA
Number One Robot for Forex Trading.
Based on Price Action and Trend Analysis with Artificial Intelligence.
Works Best with EURUSD & XAUUSD.
You can use this EA on Multiple Accounts with Life Time Premium Support.
MyFXbook, FxBlue & Live Trading Verified.
Monthly Expected Profit is 20% to 200% with very Less Drawdown.
check daily trading result
We will post our trading result daily on our channel. Please join our channel for daily updates.
Talk to our Experts. We're available 24/7.