Forex Combo System EA
Supported currency pairs: EURUSD, GBPUSD, EURCAD, and EURAUD
Time Frame: M5
Brokers: All
EMAIL and Mobile PUSH notifications
The settings for each supported pair are integrated into the robot.
Forex Combo System EA is a Powerful Forex Auto Trading EA Robot optimized for up to 15% Monthly profits. Order Now to get 90% Discount.
Forex Combo What's included:
Scalping StrategyScalping works because it matches high success probability trades with low risk. A consistent small-spread strategy slowly adds profitable trades boosting overall return. The Forex Combo System uses a scalping strategy that analyzed market trends to deliver trades with a high probability of success.
Trend Detection Strategy
Currency markets offer clear, easily tracked data that will be analyzed in real-time. This data is visualized as trends that will be used for accurate market predictions. Most successful traders use sophisticated Trend Detection strategies to earn the majority of their profits. The Forex Combo System helps you profit by accurately expecting tell-tale market signs that signal sustained and profitable trends.
Market Corrections Strategy
Explosive profits occur when the market trend reverses and creates large pip spread opportunities. Forex Combo System captures deep market corrections at the precise instant the present trends are exhausted. The key's to be ready to predict when the market will reverse. This is subtle science requiring thousands of lightning-fast calculations.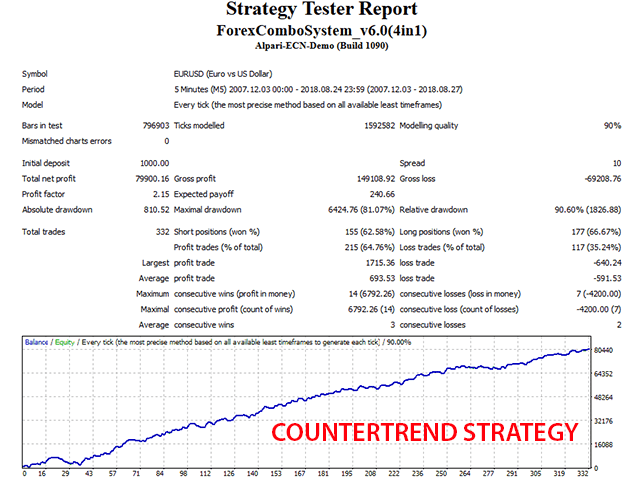 Range Detection StrategyAlmost any trader can make money when the Forex market is trending predictably up or down. However, 50% of all trading activity happens when the market is during a non-trending state. The Forex Combo System uses a strong algorithm to detect a non-trending market and adjusts it's trade detection accordingly.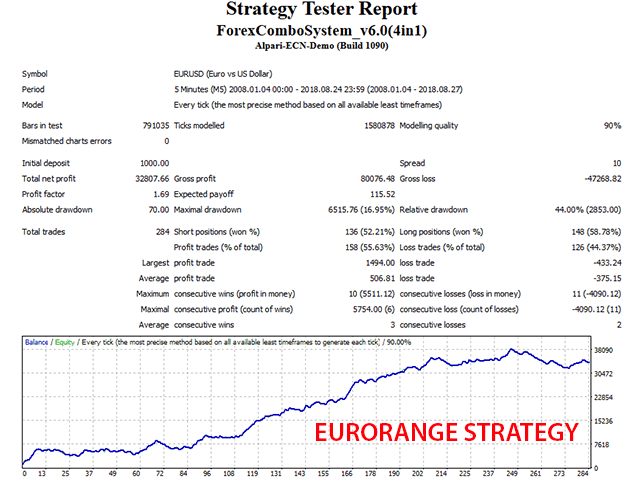 Advanced News Filter
Forex Combo System is equipped with Advanced News Filter. Thanks to this filter you can avoid trading during the most important news and events. The news filter can increase the profit factor of the system and reduce the drawdown. It is disabled by default and you can configure it precisely.
Money Management & Loss Recovery System
Forex Combo System comes with a Money Management System and Loss Recovery System. You can precisely set risk for each trading strategy. You can set risk in percents and the robot will automatically calculate the lots according to the risk and your account balance. You can enable the Recovery System and the robot will successfully recover previous losses.
Forex Combo System Settings
Use_ECN_Execution – true/false – use or not ECN type of orders execution
Hidden_StopAndTarget – true/false – if it is TRUE the StopLoss and TakeProfit will be hidden from the broker
No_Hedge_Trades – true/false – if it is TRUE opposite trades will not be allowed
NFA_Compatibility– true/false – if it is TRUE – full NFA no hedge/FIFO rules compatibility. Use "NFA_Compatibility=TRUE" if your broker is NFA regulated!
MaxSPREAD – maximal allowed spread for position opening
Slippage – maximal allowed slippage for position opening
EMAIL_Notification – true/false – enable/disable email notifications
PUSH_Notification – true/false – enable/disable push notifications to mobile phones
StopLoss – StopLossfor system 1
TakeProfit – TakeProfitfor system 1
TREND_STR – conditional trend strength gauge
OSC_open – oscillator value for position opening
OSC_close – oscillator value for position closing
TakeProfit_II – TakeProfitfor system 2
StopLoss_II – StopLossfor system 2
Register and Login to Download. Please test in a demo account first for at least a week. Also, familiarize yourself with and understand how this product works before using it in a real account. To get consistent results, this program should run on a VPS with minimal latency and no interruptions. As a result, we strongly advise you to use this program on a Reliable VPS. After completing the download in your computer or laptop you have to extract the file using WinZip software. Also check How do I Install an Expert Advisor on MT4.
REVIEW
This Forex EA is one of the newest Forex Robot that shows itself as a very profitable low-risk trading strategy. In this forex robot review, we're going to break down the pros and cons of this automated trading system to see if it's worth purchasing for long-term trading. We hope this helps you. Wish you all the best. Happy Trading.
Pros
Gain: 1082.93%
Monthly Profit: 10%-50%
Minimum Deposit: $500 Cent
Drawdown: Maximum 25%
Number Of Trade Per Day: 15-50
Pair: XAUUSD, GBPUSD, EURUSD
Time Frame: H1
Terminal: MT4
All trades are secured by Take Profit
Safest EA with Scalping Strategy
Cons
Sometimes drawdown is high
Longer times to close trades
Initial investment is high
No Stop Loss
Floating trades in the weekends
Strict Money Management
During a recovery, the EA can have many trades opened at the same time in the same direction

"If you don't find a way to make money while you sleep, you will work until you die."
Successful Traders Making Profits with Our Robot & Indicator
Average Profit Per Month with Our Robot & Indicator
Millionaire Gold Miner Pro EA
Number One Robot for Forex Trading.
Based on Price Action and Trend Analysis with Artificial Intelligence.
Works Best with EURUSD & XAUUSD.
You can use this EA on Multiple Accounts with Life Time Premium Support.
MyFXbook, FxBlue & Live Trading Verified.
Monthly Expected Profit is 20% to 200% with very Less Drawdown.
check daily trading result
We will post our trading result daily on our channel. Please join our channel for daily updates.
Talk to our Experts. We're available 24/7.