Does the market always seem to move lower after you hit the buy button?
Do you wish your trade will be over soon because you HATE to watch your P&L swing up and down?
Are you frustrated to see the market ALMOST reached your target profit, but only to do a 180-degree reversal and hit your stop loss?
If you replied YES to any of the above, then I've got the answer for you.
Swing trading.
Now you might be wondering:
"What is swing trading and how does it work?
Don't worry.
Because in this post, you'll learn everything you need to know about swing trading — including 3 swing trading strategies that work.
Sounds good?
Then let's begin…
Swing Trading Basics: What is swing trading and how does it work
Swing trading is a trading methodology that seeks to capture a swing (or "one move").
The idea is to endure as "little pain" as possible by exiting your trades before the opposing pressure comes in.
This means you'll book your profits before the market reverse and wipe out your gains.
Here's an example: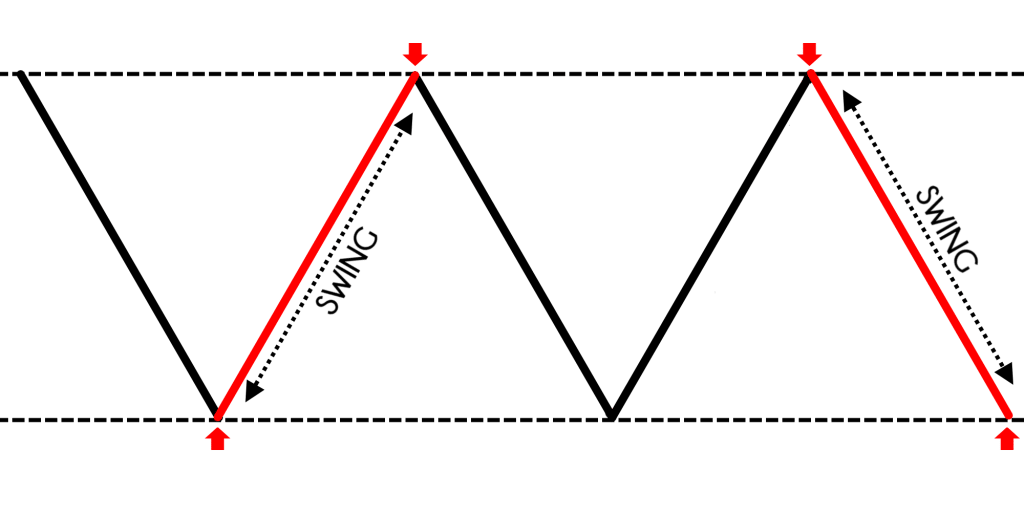 Next, here are the pros & cons of swing trading…
Pros:
You need not spend hours in front of your monitor because your trades last for days or even weeks
It's suitable for those with a full-time job
Less stress compared to day trading
Cons:
You won't be able to ride trends
You have overnight risk
So far so good?
Then let's move on…
Swing trading strategies #1: Stuck in a box
And one thing…
The swing trading strategies I'm about to share with have "interesting" names attached to it.
This helps you understand the trading setup better so you know how to apply it to your trading.
Now, let me introduce to you the first swing trading strategy for today…
Stuck in a box.
It's swing trading in a range market because the market is "stuck" between Support and Resistance (somewhat like a box).
Here's how it works:
Identify a range market
Wait for the price to break below Support
If the price breaks below Support, then wait for a strong price rejection (a close above Support)
If there's a strong price rejection, then go long on the next candle open
Set your stop loss 1 ATR below the candle low and take profits before Resistance
Here's an example: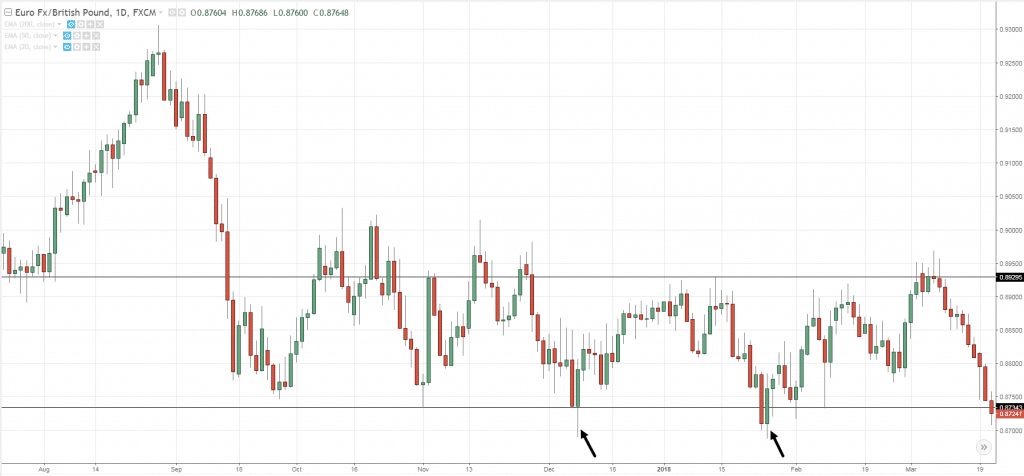 Now you might be wondering:
"Why should I take profits before Resistance?"
Recall…
As a swing trader, you're only looking for "one move" in the market.
So to ensure a high probability of success, you want to exit your trades before the selling pressure steps in (which is at Resistance).
Make sense?
Good because we'll be applying this concept to the remaining swing trading strategies.
Next…
Swing trading strategies #2: Catch the wave
This swing trading strategy focuses on catching "one move" in a trending market (like a surfer trying to catch the wave).
The idea here is to enter after the pullback has ended when the trend is likely to continue.
However…
This doesn't work for all types of trends.
Instead, you want to trade trends that have a deeper pullback because there's more "meat" towards the upside.
As a guideline, you want to see a pullback at least towards the 50-period moving average (MA) or deeper.
Now, let's learn how to catch the wave with this swing trading strategy…
Identify a trend that respects the 50MA
If the market approaches the moving average, then wait for a bullish price rejection
If there's a bullish price rejection, then go long on next candle
Set your stop loss 1 ATR below the low and take profits just before the swing high
Here's an example: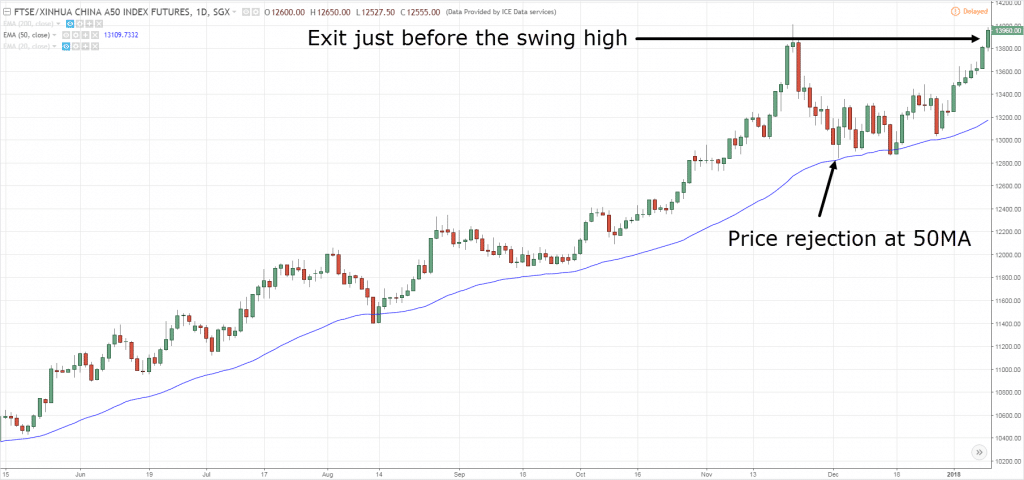 Now you might be wondering:
"But why the 50-period moving average?"
I go with the 50MA because it's watched by traders around the world so that could lead to a self-fulfilling prophecy.
And usually, the 50MA coincides with previous Resistance turned Support which makes it more significant.
Now, it doesn't mean you can't use 55, 67, 89, or whatever moving average you choose because the concept is what matters.
Swing trading strategies #3: Fade the move
Now you're probably thinking:
"What's the meaning of fade?"
It means… to go against.
Basically, you're trading against the momentum (also known as counter-trend).
So, if you're the trader that likes to "go against the crowd", then this trading strategy is for you.
Here's how it works…
Identify a strong momentum move into Resistance that takes out the previous high
Look for a strong price rejection as the candle forms a strong bearish close
Go short on the next candle and set your stop loss 1 ATR above the highs
Take profits before the nearest swing low
Here's an example: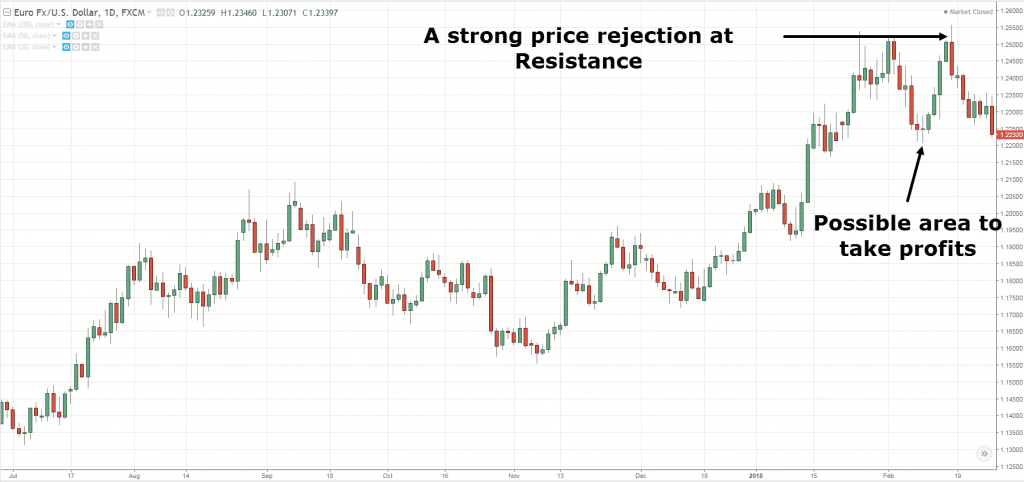 Now…
You've learned 3 types of swing trading strategies that work.
But there's one important thing that's not covered…
Your trade management.
For example:
What if you enter a trade and the market didn't hit your stop loss?
But neither has it reach your target profit.
So what should you do?
Do you hold the trade?
Do you exit the trade?
Or do you pray?
Well, I'll cover all these and more in the next section…
How to manage your trades so you can trade with confidence and conviction
Now with trade management, there are 2 ways you can go about it…
Passive trade management
Active management
I'll explain…
1. Passive trade management
For this method, you'll either let the market either hit your stop loss or target profit — anything between, you'll do nothing.
Ideally, you want to set your stop loss away from the "noise" of the markets and have a target profit within reasonable reach (before key market structure).
Here are the pros & cons of it…
Pros:
Trading is more relaxed as your decisions become more "automated"
Cons:
You can't exit your trade ahead of time even though the market is showing signs of reversal
Possible to see a winning trade become a full 1R loss
2. Active management
For this, you'll watch how the market reacts and then decide whether you want to hold or exit the trade.
Now, this is important…
For an active approach to work, you must manage your trades on your entry time frame (or higher).
Don't make the mistake of managing it on a lower timeframe because you'll scare yourself out of a trade on every pullback that occurs.
Here are the pros & cons of it…
Pros:
You can minimize your losses instead of getting a full 1R loss
Cons:
More stressful
You may exit your trade too soon without giving it enough room to run
If active trade management is for you, then here are two techniques you can consider:
Moving average
Previous bar high/low
Let me explain…
Moving Average
This technique involves using a moving average indicator to trail your stops.
You'll hold on to the trade if the price doesn't break beyond the moving average.
If it does, then you'll exit the trade.
An example: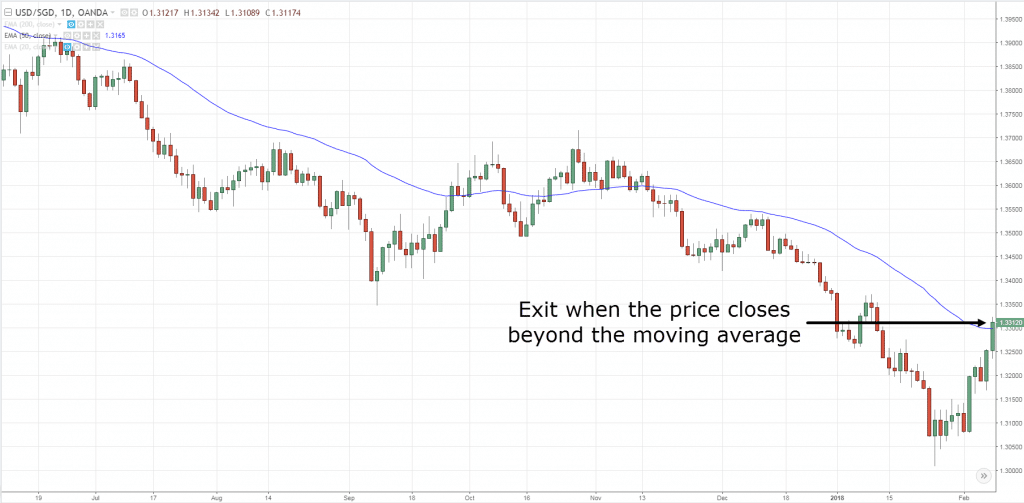 This technique is useful for swing trading strategies like Catch the Wave because the moving average tends to act as a dynamic Support & Resistance in trending markets.
Next…
Previous bar high/low
This technique relies on the previous bar high/low to trail your stop loss.
This means if you're short, then you'll trail your stop loss using the previous bar high.
If the market breaks and closes above it, then you'll exit the trade (and vice versa).
Here's what I mean: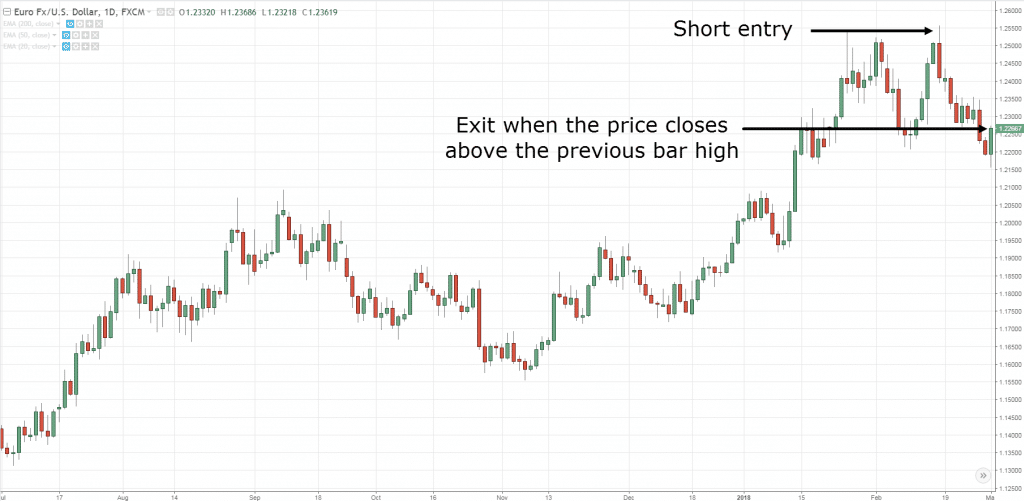 This technique is useful for swing trading strategies like Fade the Move because the market can quickly reverse against you.
So, you don't want to give your trade too much room to breathe and quickly cut your losses when the market show signs of reversal.
Conclusion
So here's what you've learned:
Swing trading is about capturing "one move" in the market by exiting your trades before the opposing pressure comes in
Stuck in a Box is a swing trading strategy suited for range markets
Catch the Wave is a swing trading strategy suited for trending markets
Fade the Move is a counter-trend swing trading strategy
Passive trade management is less stressful but you must be comfortable watching winners turning into a full 1R loss
Active trade management is more stressful but you get to minimize your losses
Facts About Forex trading daily strategy Revealed
Justin worthwhile data, I'm in the whole process of coaching and it's been almost 3 decades of learning And that i've used a handful of months just dedicated to swing operations and my trading has enhanced ostensibly, not simply with the psychological aspect but for different way of seeing the market. I function an incredibly modest serious account but I hope to enhance it Down the road.
Each and every trader is different which is something you would like to take into account when you select your strategy. Don't decide on a strategy that can have you looking at each individual pip movement if you are a great deal more suited to making a trade, placing your stop and earnings orders after which you can coming back later on.
WoW..This is excellent and amazing do the job Justin..Persistence pays and I think this trading model matches me beautifully, furthermore the top things in life are cost-free and you're not charging everything in any way..Thank you a great deal for this..I've been demo-ing and looks wonderful, i just "established it and overlook it" its been weekly now And that i am about $250 in income within the EURNZD limited trade i took within the daily, i suggest i couldn't make that Substantially ahead of by means of day trading Unless of course i risk by using many various orders on 1 trade but swing trading just one order jeopardizing three% obtained me up that Considerably and trailed my end reduction and locked in not less than $100..February 2018 am officially adopting this trading style and its highly profitable..
A favorable threat to reward ratio is one particular exactly where Web Site the payoff is at least 2 times the likely decline. Composed being an R-several, that could be 2R or greater.
Then it opens trades and manages their click to find out more income instantly. It's the quickest way to start out getting excellent pattern trades tonight. And it is Performing very well at this moment.
However, drawdown can final longer for your swing trader. It doesn't suggest you stand to lose extra money, but positions can stay detrimental A lot longer than if you have been working day trading.
Inside of Each individual of these, there are actually hundreds if not A large number of strategies. To put it differently, you will discover many different ways to day trade equally as there are lots of strategies to swing trade.
Scanning for setups is much more of a qualitative system. To paraphrase, you're scanning with the perfect setups and when you don't locate anything at all, that's all right.
This exclusive strategy lets Vader to finds quality trades as they transfer each from and in direction of the middle line. This frequently causes double dipping like a move rallies in a single course after which you can falls again to Centre at a degree of guidance or resistance. It's a terrific strategy for the current marketplaces. And it's killing charts right this moment.
You should realize that earlier performance and long term efficiency will not be precisely the same issue. Past efficiency is actually a background of what has occurred in the past and long term overall performance may be extremely various from past performance. Anything which has completed nicely previously may not do very well in long run, who click here for more info knows, ideal?
Grid trading has existed endlessly. It's very dependable and also extremely complex devoid of computer software. Thankfully Odin does the many hard work for us with its new code just introduced in 2020.
A swing trader is wanting to enter trades to the 4 hour or daily charts and then keep Individuals trades for hours or days. When scalping you will be typically holding your trades for minutes at any given time, based on how compact the timeframe.
My see here recommendation will be to get started with the daily time period. Once you become profitable at swing trading Along with the daily, feel free to maneuver towards the four-hour time period.
It contains the six-phase course of action I exploit. web And when you're unsure irrespective of whether this variety of trading is ideal for you, it will help with that much too.
Leave a comment below and let me know your thoughts.
"If you don't find a way to make money while you sleep, you will work until you die."
Successful Traders Making Profits with Our Robot & Indicator
Average Profit Per Month with Our Robot & Indicator
MOST POPULAR FOREX ROBOT ELON MUSK 2000 NEURALINK
Number One Robot for Forex Trading.
Based on Price Action and Trend Analysis with Artificial Intelligence.
Works Best with EURUSD
You can use this EA on Multiple Accounts with Life Time Premium Support.
MyFXbook, FxBlue & Live Trading Verified.
Monthly Expected Profit is 20% to 200% with very Less Drawdown.
check daily trading result
We will post our trading result daily on our channel. Please join our channel for daily updates.
Talk to our Experts. We're available 24/7.