What is forex and how does it work?
What is forex and how does it work?
Forex, also known as foreign exchange or FX trading, is the conversion of one currency into another. It is one of the most actively traded markets in the world, with an average daily trading volume of $5 trillion. Take a closer look at everything you'll need to know about forex, including what it is, how you trade it and how leverage in forex works.
What is forex trading?
Forex, or foreign exchange, can be explained as a network of buyers and sellers, who transfer currency between each other at an agreed price. It is the means by which individuals, companies and central banks convert one currency into another – if you have ever travelled abroad, then it is likely you have made a forex transaction.
While a lot of foreign exchange is done for practical purposes, the vast majority of currency conversion is undertaken with the aim of earning a profit. The amount of currency converted every day can make price movements of some currencies extremely volatile. It is this volatility that can make forex so attractive to traders: bringing about a greater chance of high profits, while also increasing the risk.
How do currency markets work?
Unlike shares or commodities, forex trading does not take place on exchanges but directly between two parties, in an over-the-counter (OTC) market. The forex market is run by a global network of banks, spread across four major forex trading centres in different time zones: London, New York, Sydney and Tokyo. Because there is no central location, you can trade forex 24 hours a day.
There are three different types of forex market:
Spot forex market: the physical exchange of a currency pair, which takes place at the exact point the trade is settled – ie 'on the spot' – or within a short period of time
Forward forex market: a contract is agreed to buy or sell a set amount of a currency at a specified price, to be settled at a set date in the future or within a range of future dates
Future forex market: a contract is agreed to buy or sell a set amount of a given currency at a set price and date in the future. Unlike forwards, a futures contract is legally binding
​Most traders speculating on forex prices will not plan to take delivery of the currency itself; instead they make exchange rate predictions to take advantage of price movements in the market.
What is a base and quote currency?
A base currency is the first currency listed in a forex pair, while the second currency is called the quote currency. Forex trading always involves selling one currency in order to buy another, which is why it is quoted in pairs – the price of a forex pair is how much one unit of the base currency is worth in the quote currency.
Each currency in the pair is listed as a three-letter code, which tends to be formed of two letters that stand for the region, and one standing for the currency itself. For example, GBP/USD is a currency pair that involves buying the Great British pound and selling the US dollar.
So in the example below, GBP is the base currency and USD is the quote currency. If GBP/USD is trading at 1.35361, then one pound is worth 1.35361 dollars.
If the pound rises against the dollar, then a single pound will be worth more dollars and the pair's price will increase. If it drops, the pair's price will decrease. So if you think that the base currency in a pair is likely to strengthen against the quote currency, you can buy the pair (going long). If you think it will weaken, you can sell the pair (going short).
To keep things ordered, most providers split pairs into the following categories:
Major pairs. Seven currencies that make up 80% of global forex trading. Includes EUR/USD, USD/JPY, GBP/USD, USD/CHF, USD/CAD and AUD/USD
Minor pairs. Less frequently traded, these often feature major currencies against each other instead of the US dollar. Includes: EUR/GBP, EUR/CHF, GBP/JPY
Exotics. A major currency against one from a small or emerging economy. Includes: USD/PLN (US dollar vs Polish zloty) , GBP/MXN (Sterling vs Mexican peso), EUR/CZK
Regional pairs. Pairs classified by region – such as Scandinavia or Australasia. Includes: EUR/NOK (Euro vs Norwegian krona), AUD/NZD (Australian dollar vs New Zealand dollar), AUD/SGD
What moves the forex market?
The forex market is made up of currencies from all over the world, which can make exchange rate predictions difficult as there are many factors that could contribute to price movements. However, like most financial markets, forex is primarily driven by the forces of supply and demand, and it is important to gain an understanding of the influences that drives price fluctuations here.
Central banks
Supply is controlled by central banks, who can announce measures that will have a significant effect on their currency's price. Quantitative easing, for instance, involves injecting more money into an economy, and can cause its currency's price to drop.
News reports
Commercial banks and other investors tend to want to put their capital into economies that have a strong outlook. So, if a positive piece of news hits the markets about a certain region, it will encourage investment and increase demand for that region's currency.
Unless there is a parallel increase in supply for the currency, the disparity between supply and demand will cause its price to increase. Similarly, a piece of negative news can cause investment to decrease and lower a currency's price. This is why currencies tend to reflect the reported economic health of the region they represent.
Market sentiment
Market sentiment, which is often in reaction to the news, can also play a major role in driving currency prices. If traders believe that a currency is headed in a certain direction, they will trade accordingly and may convince others to follow suit, increasing or decreasing demand.
Economic data
Economic data is integral to the price movements of currencies for two reasons – it gives an indication of how an economy is performing, and it offers insight into what its central bank might do next.
Say, for example, that inflation in the eurozone has risen above the 2% level that the European Central Bank (ECB) aims to maintain. The ECB's main policy tool to combat rising inflation is increasing European interest rates – so traders might start buying the euro in anticipation of rates going up. With more traders wanting euros, EUR/USD could see a rise in price.
Credit ratings
Investors will try to maximise the return they can get from a market, while minimising their risk. So alongside interest rates and economic data, they might also look at credit ratings when deciding where to invest.
A country's credit rating is an independent assessment of its likelihood of repaying its debts. A country with a high credit rating is seen as a safer area for investment than one with a low credit rating. This often comes into particular focus when credit ratings are upgraded and downgraded. A country with an upgraded credit rating can see its currency increase in price, and vice versa.
How does forex trading work?
There are a variety of different ways that you can trade forex, but they all work the same way: by simultaneously buying one currency while selling another. Traditionally, a lot of forex transactions have been made via a forex broker, but with the rise of online trading you can take advantage of forex price movements using derivatives like CFD trading.
CFDs are leveraged products, which enable you to open a position for a just a fraction of the full value of the trade. Unlike non-leveraged products, you don't take ownership of the asset, but take a position on whether you think the market will rise or fall in value.
Although leveraged products can magnify your profits, they can also magnify losses if the market moves against you.
What is the spread in forex trading?
The spread is the difference between the buy and sell prices quoted for a forex pair. Like many financial markets, when you open a forex position you'll be presented with two prices. If you want to open a long position, you trade at the buy price, which is slightly above the market price. If you want to open a short position, you trade at the sell price – slightly below the market price.
What is a lot in forex?
Currencies are traded in lots – batches of currency used to standardise forex trades. As forex tends to move in small amounts, lots tend to be very large: a standard lot is 100,000 units of the base currency. So, because individual traders won't necessarily have 100,000 pounds (or whichever currency they're trading) to place on every trade, almost all forex trading is leveraged.
What is leverage in forex?
Leverage is the means of gaining exposure to large amounts of currency without having to pay the full value of your trade upfront. Instead, you put down a small deposit, known as margin. When you close a leveraged position, your profit or loss is based on the full size of the trade.
What is margin in forex?
Margin is a key part of leveraged trading. It is the term used to describe the initial deposit you put up to open and maintain a leveraged position. When you are trading forex with margin, remember that your margin requirement will change depending on your broker, and how large your trade size is.
Margin is usually expressed as a percentage of the full position. So, a trade on EUR/GBP, for instance, might only require 1% of the total value of the position to be paid in order for it to be opened. So instead of depositing AUD$100,000, you'd only need to deposit AUD$1000.
What is a pip in forex?
Pips are the units used to measure movement in a forex pair. A forex pip is usually equivalent to a one-digit movement in the fourth decimal place of a currency pair. So, if GBP/USD moves from $1.35361 to $1.35371, then it has moved a single pip. The decimal places shown after the pip are called fractional pips, or sometimes pipettes.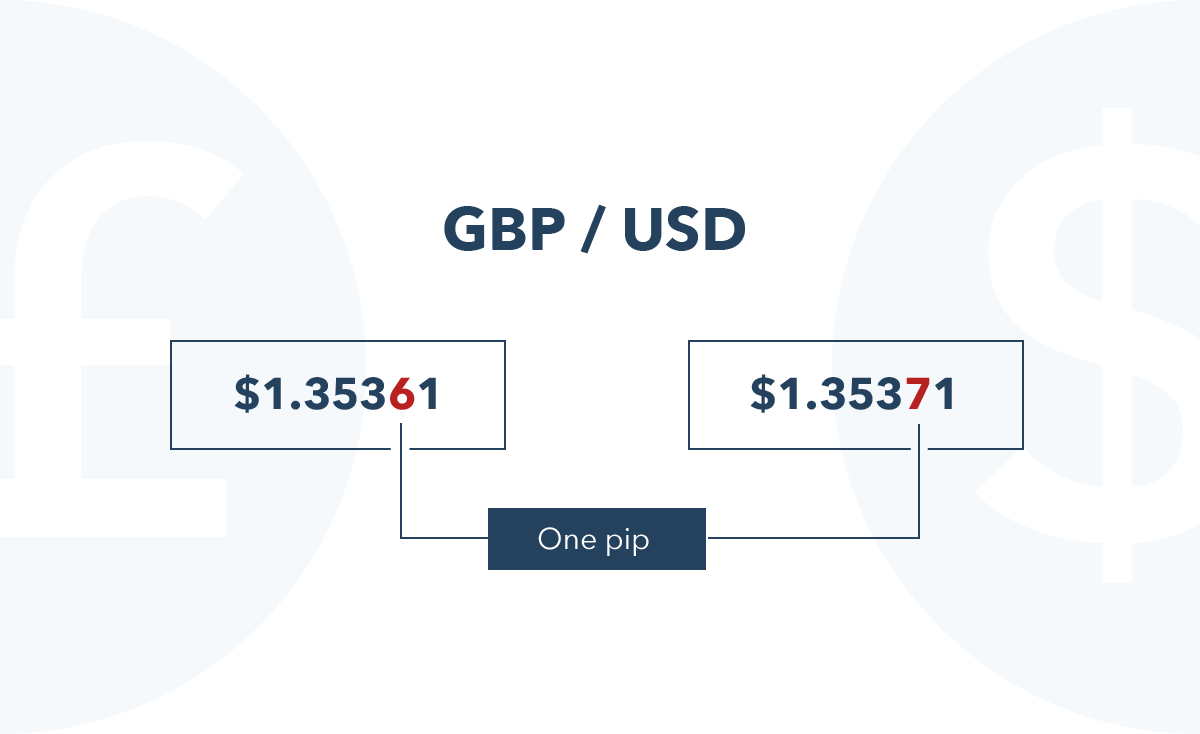 The exception to this rule is when the quote currency is listed in much smaller denominations, with the most notable example being the Japanese yen. Here, a movement in the second decimal place constitutes a single pip. So, if EUR/JPY moves from ¥106.452 to ¥106.462, again it has moved a single pip.
Forex markets operate all day, seven days a week. The markets are constantly changing, with millions of variables affecting trading opportunities. Sometimes, it can get tricky and stressful for humans to handle the trades themselves. In such a case, many people opt for a Forex EA.
A Forex Expert Advisor (EA) assists you in the trading process, sometimes by conducting the trades when you are occupied or asleep. A forex EA eliminates the emotional factor. This means that emotions such as greed or fear do not come in the way of making good, intelligent decisions. A forex EA also takes away the stress that forex trading brings and can consider all variables at once, something humans cannot do.
A forex EA trades and makes decisions faster than humans, allowing you to immediately take advantage of trading opportunities. With forex expert advisors, you can make better-informed trading decisions, increasing your chances of making profits. However, it is also essential to choose the right Forex EA, one that guarantees safety and profitability.
What Is an Expert Advisor?
An expert advisor is a specially designed software that can carry out trading functions. This software notifies forex traders of opportunities and advises them on the trades they should make. An expert advisor can also manage trades in the place of the forex trader.
Programmed using Meta Quotes Language (MQL), an expert advisor works on the Meta Trader platform. The Meta Trader platform is an online platform for forex traders. The expert advisor comprises a mathematical model that uses trade signals to determine the best entry points into trades.
Some forex EAs gather data on forex markets and then send trading signals to the trader. Others analyze this data and use it to decide the best time to enter a market. What your expert advisor does depends on the way you have programmed it.
You can even program your EA using specific instructions. The expert advisor will then make trades according to those instructions while you are occupied.
How Can I Use Forex EA?
After installing an EA, you need to set its parameters according to the trading strategies you want it to use and the functions you want it to have. Using the parameters, the Forex EA analyzes different trading opportunities and decides whether or not to invest in them.
The Forex EA does this through a set of questions incorporated into its mathematical model. Using these questions, it makes a decision about the trade.
You can either build your own EA or download one built by someone else. Using the signals of the EA, you can make decisions or choose to act quickly.
When using an EA, you should always try the demo version first. This way, you can check whether the software is suitable for your forex trading. You should also do your research beforehand and set up adequate parameters.
How Do Forex Expert Advisors Work?
Forex expert advisors make the trading process automatic, helping you make a profit through trades. They use technical indicators and trade parameters to identify profitable trading opportunities. They use the data they have gathered to pinpoint the lowest cost to enter the market and the highest cost to sell.
After you attach an EA to a chart on your MT4 platform, the forex expert advisor will analyze market conditions and use them to advise you on trades to make. It uses different factors and situations to draw conclusions about the direction a market will go.
When making trade decisions, an EA follows a set of rules or conditions. With these conditions in place, the EA manages trades on behalf of traders by entering and exiting markets as needed.
The functions of an EA range from advisory functions to making decisions for you. What a certain EA does depends on the type of expert advisor it is and how you have programmed it.
Forex Robot Review
Free foreign expert advisors are an appealing option for forex traders. This is because they free them from the stress and the time spent making trades. A forex EA allows them to sit back and let a forex robot do the work. Despite that, a forex EA does not come without disadvantages. You will require a constant internet connection for a foreign expert advisor to work properly. Additionally, many forex EAs can turn out to be scams, doing more harm than good.
Pros
A Forex EA Takes Emotions Out Of Forex Trading: At times, fear of a loss can stop you from making a decision that has good prospects. A forex EA will not take this fear into account and will just make a trade according to your instructions. A forex EA will also be free of biases and greed. This will prevent delays from happening and will enable smarter decision-making.
A Forex EA Is Faster: A forex EA can do the needful to find trades with good prospects in seconds. This includes surveying markets, analyzing factors, and deriving the probability of a profitable trade. This speed allows the EA to grab as many trading opportunities as possible and work more efficiently than others.
A Forex EA Can Trade 24/7: A forex EA can stay active on the market and be on the lookout for opportunities all day. On the other hand, humans need to sleep, work, and go about their daily lives. Humans often need to take breaks, which can lead them to miss an opportunity. This will never happen with forex EAs.
A Forex EA Makes Back testing Easier: A forex EA speeds up the process of testing various strategies while making decisions. An expert advisor can do this in seconds, while if a human does it, it will be difficult and time-consuming. Since EAs can store a lot of data, they can use it to test out multiple strategies and then choose the best one for the trades.
A Forex EA Removes the Need for Expertise: With a forex EA, people who are just starting with forex trading will be able to trade easily. They will not require any expertise since the expert advisor will advise them and act on their behalf.
Cons
A Forex EA Does Not Recognize Fundamental Data: A forex EA makes decisions using statistics, charts, and historical data. However, they ignore external factors such as industry trends or political factors. These factors can play a part in determining the profitability of a trade. In the absence of this knowledge, the results of trading can be less than favorable.
A Forex EA Is Subject to Technical Problems: Since you run a forex EA from a computer at home, technical issues can arise. These include connectivity issues, hardware failures, and power outages. A technical issue can interrupt the trade execution, leading the EA to miss opportunities or make wrong decisions.
A Forex EA Has to Stick to One Instrument: A forex EA cannot carry out trading strategies that involve multiple instruments. This reduces diversification and increases risk. It can also reduce the number of trading opportunities available.
A Forex EA Cannot Execute Certain Strategies: A forex EA cannot handle strategies such as wave analysis. This type of strategy is better suited to live traders with access to real-time news.
Main Types of Forex EAs
There are several types of expert advisors depending on your trading objectives, your requirements for the expert advisors, and the type of trades you wish to use a forex EA for.
Expert Advisor Scalper: An expert advisor scalper opens multiple positions at one time. This type of forex expert advisor keeps these positions open until they make small profits. The EA closes these positions as soon as they generate a profit. Through an expert advisor scalper, you make multiple trades in a day and earn small profits in many of these trades. Expert advisor scalpers can get your account banned since brokers frown upon them.
News Expert Advisor: A news expert advisor bases its decisions around price or trend changes following big news releases. It takes advantage of these changes to make profitable trading decisions. The news releases in question are financial news releases surrounding interest rates and payroll decisions. These releases can have a major impact on prices, which is exactly what a news expert advisor predicts and uses to its advantage.
Hedge Expert Advisor: A hedge expert advisor works by opening two opposing positions. It aims for one position to get a profit while the other reduces a loss. The profitable position is often left open while the other is ultimately closed. A hedge expert advisor observes the profitability of both these positions.
Breakout Expert Advisor: When price surpasses preset resistance and support levels, a breakout expert advisor opens up a trade. The position it opens is often connected to the price increase, which a breakout expert advisor uses to make a profit.
Adaptive Expert Advisor: Adaptive expert advisors do not have a set way of acting. They just act according to how the market acts. This means that, with adaptive expert advisors, you just need to set parameters, and the advisor will make the decisions.
4 Rules of Forex EA
When launching a forex expert advisor, there are some rules you should follow to reduce risks and increase profitability.
Pay Close Attention to Backtesting Results: You should use the same data you used during backtesting when actually conducting trades. Good backtesting results do not indicate that your entire system works well. It just means that the data you used for the backtesting was of good quality. Not using that data can lead to unfavorable outcomes.
Check Your Metatrader Connection: As mentioned before, your expert advisor will not work if your connection gets interrupted or if technical issues arise. Therefore, you should keep checking your MetaTrader connection. To improve the execution of your EA, you should reduce the number of windows open in your MT4 workspace.
Research Market Conditions: One possible cause of your EA failure is its inability to keep track of and adapt according to market conditions. This makes it essential for you to have full knowledge of these conditions. If you want to make a decision based on market trends, you can even run an EA that is meant for trending markets.
Take Care to Avoid Scams: Since your EA manages your forex trading, a scam can create immense financial problems. You should make sure to avoid scams when downloading an EA. Doing your research will bring your attention to various tried and tested options that other traders believe in. This can help you to make an informed decision. Look for genuine customer reviews and make a decision accordingly.
LEARN HOW TO Earn $2 Million
If we can get 20% profit per month, then we can double the account in Six month.
After 6 months 20k
After 1 year 40k
After 1 year 6 months 80k
After 2 years 160k
We are depositing our profit as balance every month and increasing the profit by compound method.
After 2 years 6 months 320k
After 3 years 640k
After 3 years 6 months 1280k
After 4 years 2560k
So you can see starting with only $10000 we can make $25,60,000 in just 4 years with BEST MT4 EA.
Make $2 Million with Best Forex EA. 24x7 auto trading. Opens, manages, and closes the best trades for you. No need to lift a finger.
Top 6 Forex Expert Advisors For Metatrader 4
BEST SELLER
Billionaire Forex EA trades automatically & earns stable profit every day. Most Profitable Forex Robot collection for only $999.99.
BEST SELLER
Bitcoin Crypto Trading Robot trades automatically & earns stable profit every day. Most Profitable Robot for only $689.99.
BEST SELLER
Elon Musk 2000 Neuralink Expert Advisor 🏆  trades automatically & earns stable profit every day. Most Profitable Robot for only $679.99.
BEST SELLER
Millionaire Gold Miner Pro EA trades automatically & earns stable profit every day. Most Profitable Robot for only $679.99.
MOST POPULAR
FTMO EA trades automatically & Pass FTMO CHALLENGE & VERIFICATION. Most Profitable Robot for only $669.99.
BEST SELLER
Tiger X Pro EA trades automatically & earns stable profit every day without long draw downs. Most profitable Forex Trading Robot for only $329.99.
FREQUENTLY ASKED QUESTIONS
Successfully Trading with Our Robot & Indicator
First I have bought Millionaire Gold Miner Pro EA. I am using it with RoboForex Cent Account and trading only XAUUSD. The result is very good. Average $300-$400 every week. After 2 months I decided to try Billionaire Bundle Pack. Got 60% discount as a premium customer. I am so happy. Now I will get all the Updated Premium Forex Robot & Indicator without any hassle.
Pay Once Use Forever. Lifetime Access with Multiple Accounts.
Hurry! Special Discount is only available for first 50 orders.
90 Days Money Back Guarantee
Offer will End & Price will go up very soon. If you want consistent profit, do not think, Just click the Buy Now button.
"If you don't find a way to make money while you sleep, you will work until you die."
Successful Traders Making Profits with Our Robot & Indicator
Average Profit Per Month with Our Robot & Indicator
MOST POPULAR FOREX ROBOT ELON MUSK 2000 NEURALINK
Number One Robot for Forex Trading.
Based on Price Action and Trend Analysis with Artificial Intelligence.
Works Best with EURUSD
You can use this EA on Multiple Accounts with Life Time Premium Support.
MyFXbook, FxBlue & Live Trading Verified.
Monthly Expected Profit is 20% to 200% with very Less Drawdown.
check daily trading result
We will post our trading result daily on our channel. Please join our channel for daily updates.
Talk to our Experts. We're available 24/7.